MILITARY CONFLICTS AND THE CIVIL WAR IN THE RUSSIAN FAR EAST
The exposition " The Civil war and military conflicts in the Russian Far East in the first q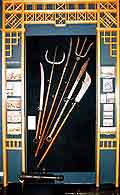 uarter of the XXth century" opened in 1997 arouses a great interest of visitors. Its authors made an attempt to show historical events in the years of the revolutionary reconstruction and the fratricidal Civil war thoroughly. There are two historical periods in the exposition: military and revolutionary events (1896 - 1917) and the Civil war in the Russian Far East (1918 - 1922). The unique documents and photos give the visitors the opportunity to join the tragical destiny of Russia in that period.
Visitors' attention is attracted by the collection of cold steel arms of the period of the so called Boxer revolt - Chinese pole-axes, sword-tridents and also a Japanese pole-axe "naginata". Documents and photos of the first stands are devoted to the theme of the political struggle at the Far Eastern borders, the building of Chinese Eastern Railway, the events of the Russian-Japanese war (1904 - 1905). In the showcase one can see award arms for officers, a wine-bowl and a bugle with a ribbon for Cossacks got for their heroic deeds. The unique exhibit - coat of arms of Russian Empire - two headed eagle decorated the front of a State Bank building. It has a symbolic meaning. Its crown as a symbol of the tsarist autocracy was sawed off after the February revolution.
The next materials and photos help the visitors to know more about the victory of the October revolution, the armed insurrection in Petrograd, the establishment of the Soviet power in the Territory. Some documents inform on armed resistance and organizing of the White Guards and intervention of foreign states in the Russian Far East. Visitors can feel as if they are "participants" of historical events of that time looking at the typological complexes of the exposition: "Kharbin hotel", "Vladivostok cafe", "Illegal flat of the member of an underground organisation in Khabarovsk".