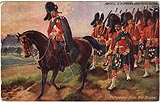 ARGULL & SUTHERLAND HIGHLANDERS
Returning from the Review
Argull & Sutherland Highlanders (Princess Louise's). Badge: A boar's head with motto.
Ne obliviscaris within a wreath of myrtle, and a cat with motto Sans Peur within a wreath of broom. Battles: «Cape of Good Hope, 1806», «Roleia», «Vimiera», «Corunna», «Pyrenees», «Nivelle», «Nive», «Orthes», «Toulouse», «Penisula», «Alma», «Balaklava», «Sevastopol», «Lucknow», «South Africa, 1846-7, 1851-2-3, 1879», and South Africa, 1899-1902, «Modder River», «Paardeberg».
Raphael Tuck & Sons «Oilette». Postcard No. 9937.
Art Publishers to their Majesties the King & Queen.
Printed in England.